Black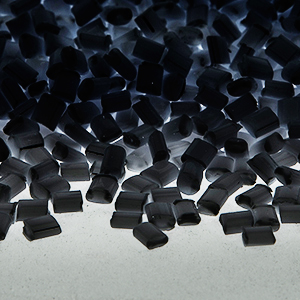 PA 6 (Polyamide 6) has high mechanical strength, excellent heat and chemical resistance, good flow and processing properties. Reinforced with glass fiber, carbon fiber and more of the same fibers at different viscosity rates, polyamide could be marked with laser designator and produce good products which has the properties of very good heat resistance. Due to its advantages, polyamide is used in many industrial and special applications.
---
Specific Gravity : 1.20
Tensile Strenght : 100-110 MPa
Flexural Modulus : 2600-2700 MPa
IZOD Impact Strenght (notched) : 65-70 kj/m²
Heat Deflection Temperature : 65 ºC
Vicat Softening Temperature: 190 ºC
Rigid (GFR)
Toughness
Resistance to strain
Resistance to creep
Flame Retardant
Electrical resistance
Chemical resistance
Abrasion Resistance
Low friction coefficient
Weather conditions resistance
Wide colour range
Mold-ability
PA6 releases a basic fume as it burns with flames which has blue mid part and yellow edging. It releases a white fume and flame ends up fast with a smell of burned hair. PA sinks (specific gravity 1,12-1,15g//cm³). It has a good impact strength, cuttable with straight marge.
Automotive
Control Panel button
Window handle
Door Handle
Wheel cover
External Mirror
Manifold
Radiator
Tanks
Cable connectors
Electric&Electronics
Office furniture and equipments
Sport equipments
PA 6 can be shaped by the processes which are available for thermoplastics.
Pre-Drying : 3-4 hours with 90 ºC
Process Temperature : 240-290 ºC
Mould Temperature : 70-90°C