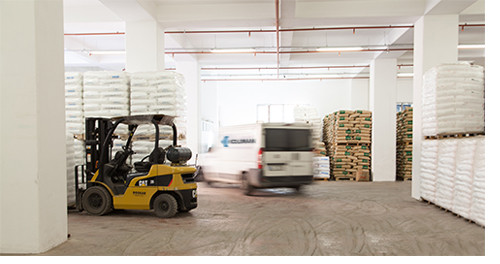 Koluman Plastic is one of the leading plastic raw material traders and highly preferred service points since 1969 which carries on businesses successfully regarding its customer oriented approach and permanent solution missions.
Having their own warehouse with a total area of 3000m2, Koluman Plastik distributes plastic raw material to its customers. Koluman Plastic is the Turkish Distributor of Kumho Petrochemical and Lotte Chemical from South Korea, Mitsubishi Rayon and DIC. PPS Companies from Japan, Formosa Plastics from Taiwan. Awareness of long term collaborations, benefits for the sector in order to sustain our customers' trust; young and experienced staff seek solutions to your problems by giving technical information and support with the wide range of products through strong supplier relationships.
Koluman Plastik is in an endeavor of serving the best to our customers with Importation, Sales, Technical Support, Storage and Delivery, Finance and Accounting Departments. You can always contact our team of sales and technical support who are ready to answer your questions about product portfolios, material stock status and order all kind of issues related to the orders.
We follow the market and supplier developments and work in close cooperation with both of our customers and suppliers. Providing technical support to our customers and recommending the right materials is one of our main goals while setting aside the commercial concerns. Our main duty is dispatching the right product at the right time with the right price and at the requested quantity.
Setting the goals of continuous improvement and innovation, our company standardizes the quality through adding value to our country and sector. Trust, good faith, and honesty underlie our business relationships. We are aiming to be trustworthy in all our relationships by benefiting from the gained experience through truth and honesty and by being a partner to our customers and a happy family with our employees.